Roblox Promo Codes and Free Items
Free stuff incoming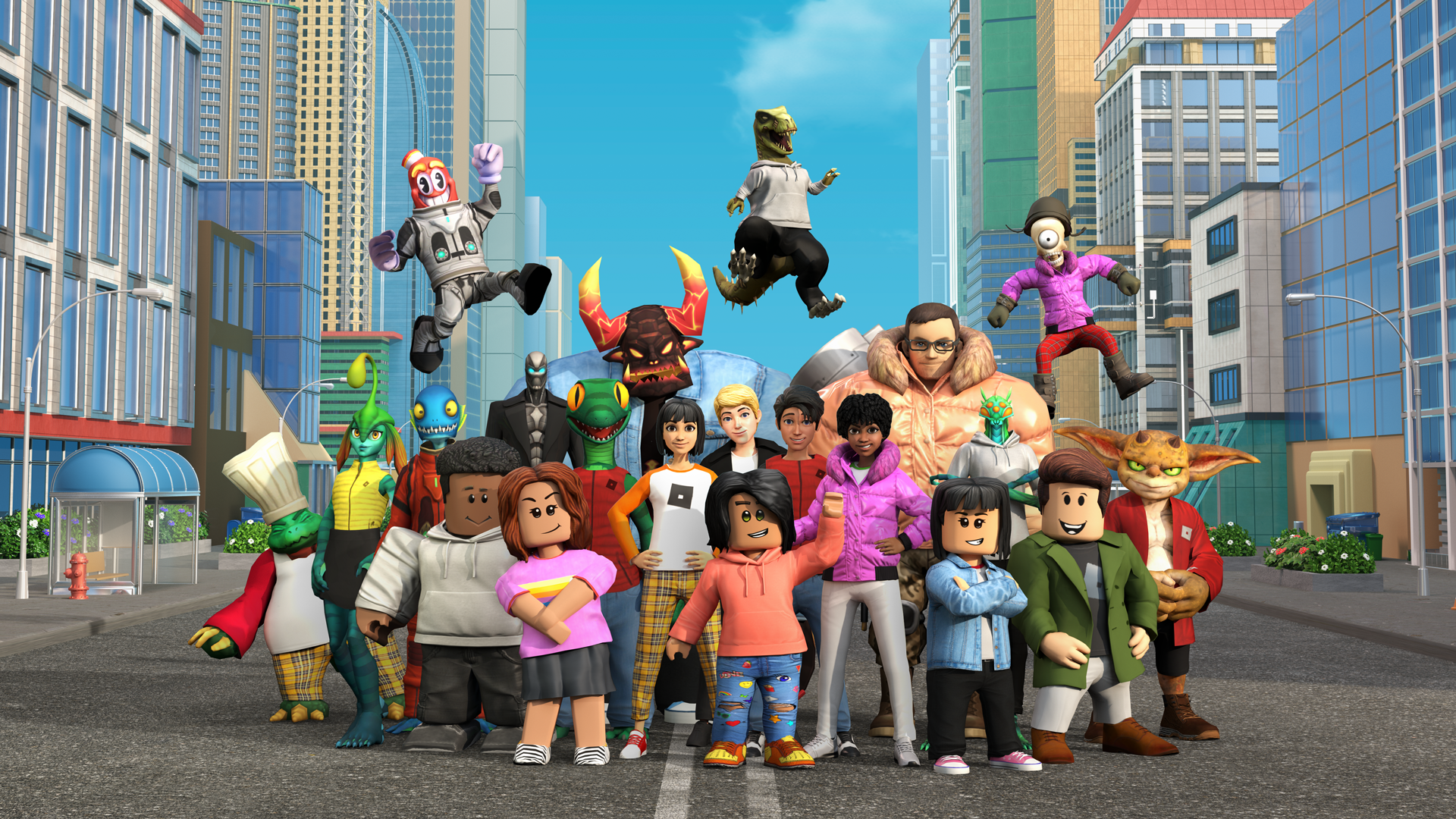 13th February, 2023: We checked for more Roblox codes.
Roblox promo codes are typically a source of fun cosmetics for your character. If you want to make your avatar stand out with a t-shirt, hat, or equippable accessories and even weapons, the best way to do it is to add to your collection of customisation options using codes.
Typically, Roblox items cost Robux — which, for many players, will mean parting with real-life money. However, there are plenty of Roblox codes out there that, when redeemed, allow you to add a little individual flair to your character without spending any cash. Many codes have come and gone during the last 16-years, but there are plenty that you can still redeem today — and, of course, new ones are added frequently.
---
Active Roblox Promo Codes
The following promo codes are currently active and can be redeemed in Roblox now:
SPIDERCOLA: Spider Cola shoulder pet
TWEETROBLOX: The Bird Says shoulder pet
StrikeAPose: Hustle Hat (Redeem within Island of Move)
GetMoving: Speedy Shades (Redeem within Island of Move)
SettingTheStage: Build It Backpack (Redeem within Island of Move)
WorldAlive: Crystalline Companion (Redeem within Island of Move)
VictoryLap: Cardio Cans (Redeem within Island of Move)
DIY: Kinetic Staff (Redeem within Island of Move)
Glimmer: Head Slime (Redeem within Mansion of Wonder)
FXArtist: Artist Backpack (Redeem within Mansion of Wonder)
ThingsGoBoom: Ghastly Aura (Redeem within Mansion of Wonder)
ParticleWizard: Tomes of the Magnus (Redeem within Mansion of Wonder)
Boardwalk: Ring of Flames (Redeem within Mansion of Wonder)
Expired Roblox Promo Codes
!HAPPY12BIRTHDAYROBLOX! - 12th Birthday Cake Hat
$ILOVETHEBLOXYS$ - Showtime Bloxy Popcorn Hat
*HAPPY2019ROBLOX* - Firestripe Fedora
100MILSEGUIDORES - Celebratory backpack @RobloxEspanol
200KTWITCH - Violet Hood of the Ages
75KSWOOP - 75K Super Swoop
AMAZONFRIEND2021 - Snow Friend
BARNESNOBLEGAMEON19 - Neapolitan Crown
BEARYSTYLISH - Hashtag No Filter
CARREFOURHOED2021 - Pasta Hat
COOL4SUMMER - 150K Summer Shades
EBGAMESBLACKFRIDAY - Neon Blue Tie
ECONOMYEVENT2021 - Economy Team Cap
FASHIONFOX - Highlights Hood
FEEDINGTIME - Flayed Rats
FINDTHEKEYS - IOI Helmet
FLOATINGFAVORITE - Hyper HoverHeart
FREEAMAZONFOX2022 - Too Cool Fire Fox
FREETARGETSANTA2022 - Upside Down Santa
GAMESTOPBATPACK2019 - Coffin BatPack
GAMESTOPPRO2019 - Glorious Pharaoh of the Sun
GOLDENHEADPHONES2017 - 24k Gold Headphones
GROWINGTOGETHER14 - The Birthday Cape
HAPPYCAMPER - Dustin's Camp Know Where Cap
HEADPHONES2 - Next Level Blue Headphones
HOTELT2 - Transylvanian Cape
JOUECLUBHEADPHONES2020 - Black Prince Succulent Headphones
JURASSICWORLD - Jurassic World Sunglasses
KCASLIME - Nickelodeon Slime Wings
KEEPIT100 - Next Level Future Visor
KINGOFTHESEAS - Aquacap
KROGERDAYS2021 - Golf Shades
LIVERPOOLFCSCARVESUP - Liverpool FC Scarf
LIVERPOOLSCARVESUP - Liverpool FC Scarf
MERCADOLIBREFEDORA2021 - White Flamingo Fedora
MLGRDC - Next Level MLG Headphones
MOTHRAUNLEASHED - Mothra Wings
ONEMILLIONCLUB! - Playful Red Dino
RETROCRUISER - Mike's Bike
ROADTO100KAY! - Bloxikin #36: Livestreamin' Lizard
ROBLOXEDU2021 - Dev Deck
ROBLOXIG500K - Hovering Heart
ROBLOXROCKS500K - Shades of the Blue Bird Following
ROBLOXSTRONG - Super Social Shades
ROSSMANNCROWN2021 - Crown of Electrifying Guitars
SMYTHSCAT2021 - King Tab
SMYTHSHEADPHONES2020 - Gnarly Triangle Headphones
SMYTHSSHADES2019 - Spiky Creepy Shades
SPACESTYLE - 50k Space 'Hawk
SPIDERMANONROBLOX - Vulture's Mask
STARCOURTMALLSTYLE - Eleven's Mall Outfit
SXSW2015 - Southwest Straw Fedora
TARGET2018 - Full Metal Top Hat
TARGETMINTHAT2021 - Peppermint Hat
TARGETOWLPAL2019 - Fall Shoulder Owl Pal
THISFLEWUP - Shutter Flyers
TOYRUBACKPACK2020 - Fully Loaded Backpack
TOYRUHEADPHONES2020 - Teal Techno Rabbit Headphones
TWEETROBLOX - The Bird Says shoulder pet
WALMARTMEXEARS2021 - Steel Rabbit Ears
WEAREROBLOX300! - Visor of the Blue Bird Following
---
How to redeem Roblox codes
To redeem most promo codes in Roblox, you need go to the Redeem Roblox Promotions page, enter your code into the text box, and click Redeem.

Some codes require you to redeem them from within certain games, such as Island of Move and Mansion on Wonder. For Island of Moves you can redeem them at the "PLAY IT!" stand, and in Mansion of Wonder, you'll need to head over to the Swag building.
---
Prime Gaming Roblox codes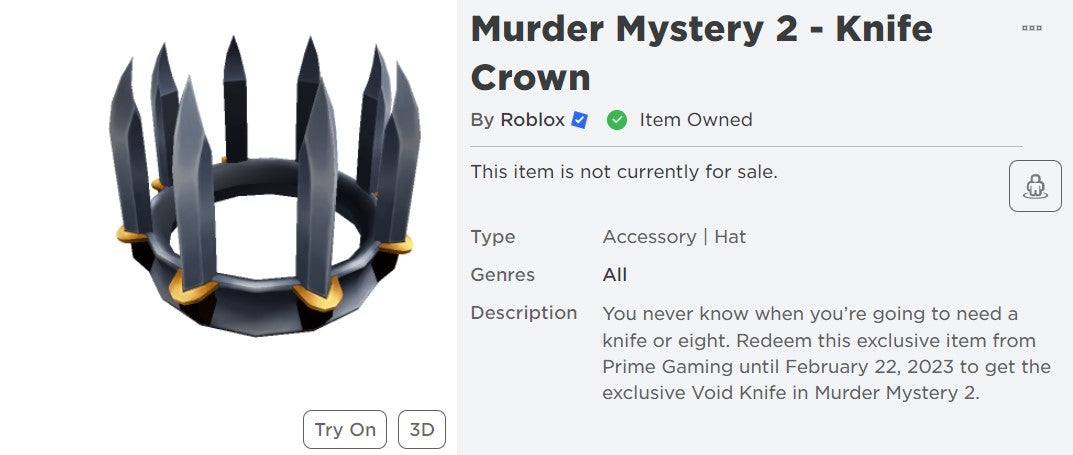 Each month Prime Gaming releases a new code for a free Roblox item. This month it's the Murder Mystery 2 Knife Crown - you can grab the code here. Once you have it, you'll need to redeem it over at the Roblox code redemption page. You will need an Amazon Prime account to get the code though.
---
How to get free clothes and items in Roblox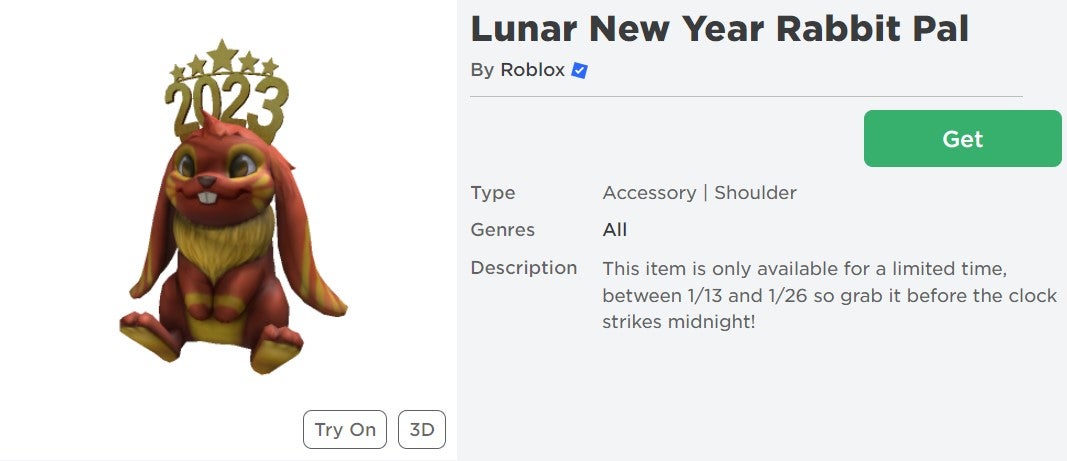 In addition to promo codes, there are over 100 items in Roblox which you can redeem for free by simply visiting their page on the Avatar Shop and clicking Get. Below we have put a list of all the ones we can currently find:
---
Free Roblox items from within games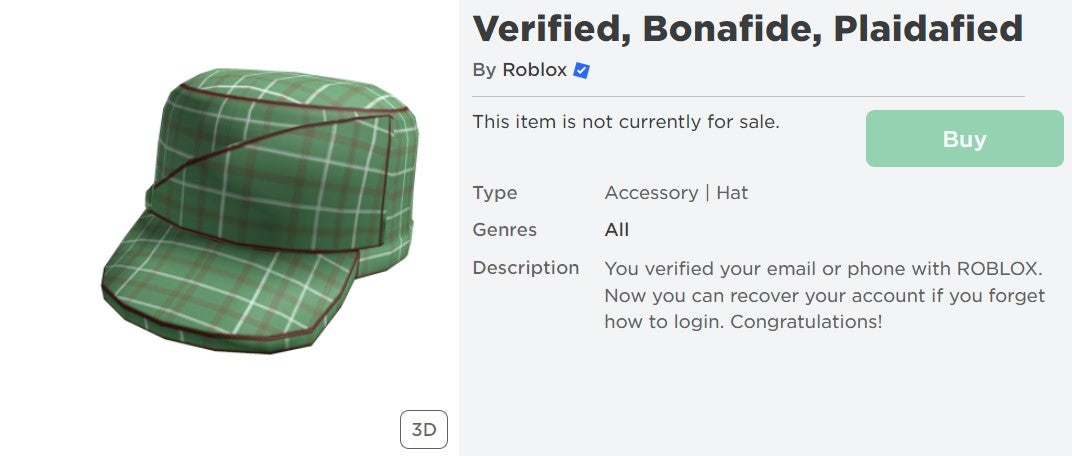 One final source of free cosmetic items in Roblox are game rewards. Some games on the platform offer reward items for completing specific feats within the game. This can range from completing a certain quest, to beating the whole thing, to just playing it for the first time.
---
For recommendations of the best games you can play in Roblox right now, check out our guide to the best Roblox games. And if that wasn't already enough free stuff, check out more of our code pages: King Legacy codes, All Star Tower Defence codes, Shindo Life codes, Blox Fruits codes and Anime Fighting Simulator codes.