There's one key area where Wild Hearts beats Monster Hunter
Wild Hearts is squaring up to Capcom's indomitable hunting series, and in many ways it comes up short. But it does have its strengths.
The hunting genre has exploded in popularity over the past few years. Monster Hunter World and its ludicrous sales figures proved that – in making the genre more accessible – Capcom could wrangle a massive audience for this once-niche genre. And now other developers and publishers have really started to take notice.
That includes Dynasty Warriors developer, Omega Force, and publisher Electronic Arts (and its more experimental EA Originals imprint). The developer, of course, is no stranger to the genre: 10 years ago, it released the doomed PSP/PS Vita series Toukiden: The Age of Demons – a game that played well enough and did a lot right, but could never find an audience amongst the minute number of people that actually bothered buying a Vita in the West.
But now, a decade later, the developer is emerging from the Dynasty Warriors salt mines once again to take on one of the strongest brands in gaming: Monster Hunter. Ask anyone that likes the Capcom series, and they'll probably tell you that it's nigh-perfect as it is – in gameplay, in world-building, in combat, and more recently in quality of life, Monster Hunter as a series gets nearly everything right. Nearly.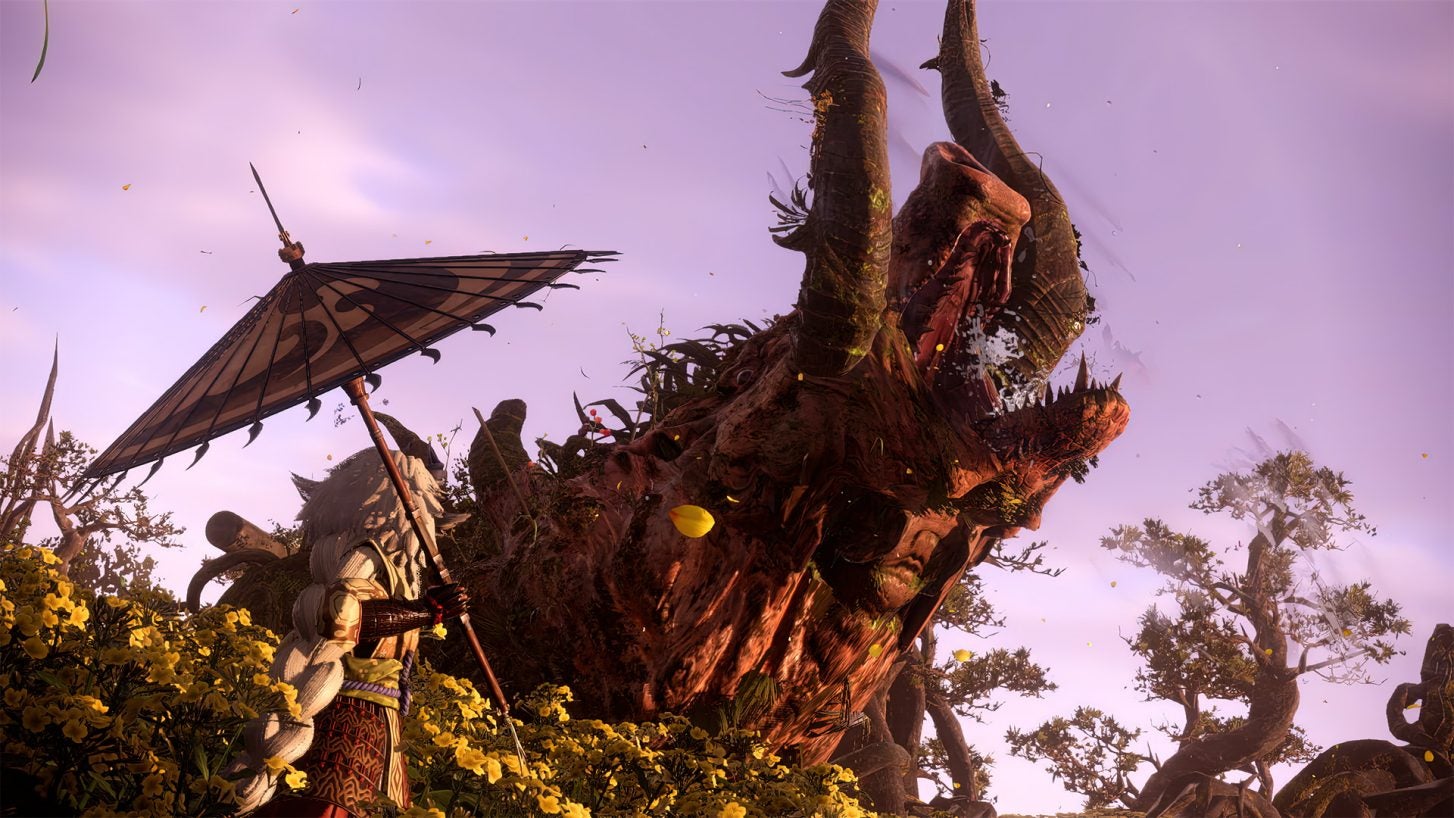 "Monster Hunter is a grand scale game, and something incredible that Capcom has built," says Koei Tecmo director Takuto Edagawa in an interview with VG247, "and it's something we did look to as we developed our own game. But, at the same time, right now in the hunting game genre, I feel like we feel like there's just the one massive game – and Monster Hunters is there as a single reigning game. We didn't want to follow them, and what they're making, and make the same game.
"Rather, we wanted to make sure that we're standing independently away from them, and doing our own thing. We are strong developers, and established, and want to make something that stands up in its own way."
I've been playing Wild Hearts for a week now, and I must've sunk about 30 hours in so far. There's a lot it does wrong – the camera is egregiously bad, the flighty combat lacks any real oomph, and the building mechanic is a bit weird – but there's a charm to this game that I can't quite put my finger on. It's keeping me coming back every day, even if I tear my headset off and quit in frustration the night before.
But perhaps one of the most impressive elements of the title comes in the form of its accessibility menus. That's what sets it apart, so far. From the very start of the game – before you've even set off on a single hunt! – you're encouraged to thumb through all the menus, and select all the stuff that's gonna make your life easier in the coming hours.
There's a suite of colour blindness options, a variety of text sizes that you can cycle through to make the subs that bit easier to read, and a button hold time toggle that makes interacting with the world easier and quicker. There's even a screen reader, text to speech, and speech to text options – and you can alter the speed at which the text is translated either way! Omega Force and EA have not skimped on these accessibility options – it's one of the most robust menus I've seen in a hunting game, ever.
Compare that to Monster Hunter's frankly paltry settings, and you can see a vast difference between the games from the off. The Monster Hunter games are known for being somewhat difficult to penetrate for new players (though that's reversing with better tutorial suites in new games), and I hope that if the series learns anything from Wild Hearts, it's how to implement a solid, undeniably impressive set of accessibility options in its next game – which, I assume, we're all hoping is Monster Hunter World 2.
It feels like Wild Hearts is following the path set out by Sony studios and what we've seen in games like The Last of Us (Part 1 and Part 2), God of War, and other first-party exclusives. Between that kind of software support, and the sort of hardware we're seeing with the Xbox Adaptive Controller and the PlayStation Project Leonardo, there's never been a better time for accessibility in games. It's really pleasing to see EA and Omega Force go down this path, too, and I hope it's the first of many to come.